Price
Worldwide price for basic Ovi-bovi versionIn the basic version we guarantee 1 km range of wireless tag-to-receiver transmission in the worst case conditions (actual range is normally up to 2 to 5 km) and we also equip the tags with ISO 15693 complying microchips compatible with modern NFC-enabled smartphones and equipment installed on a farm (NFC scanners at selection gates, in milking parlors etc.) is €60 per tag + €750 for receiver with the necessary software. Having internet connection on the farm is not an absolute must for running Ovi-bovi system, but it is needed for heat or lameness SMS alerting, regular automatic backups of your data (if you allow this option), and remote support from us at any moment.
Ovi-bovi cow heat detection tags: developed and manufactured in Belarus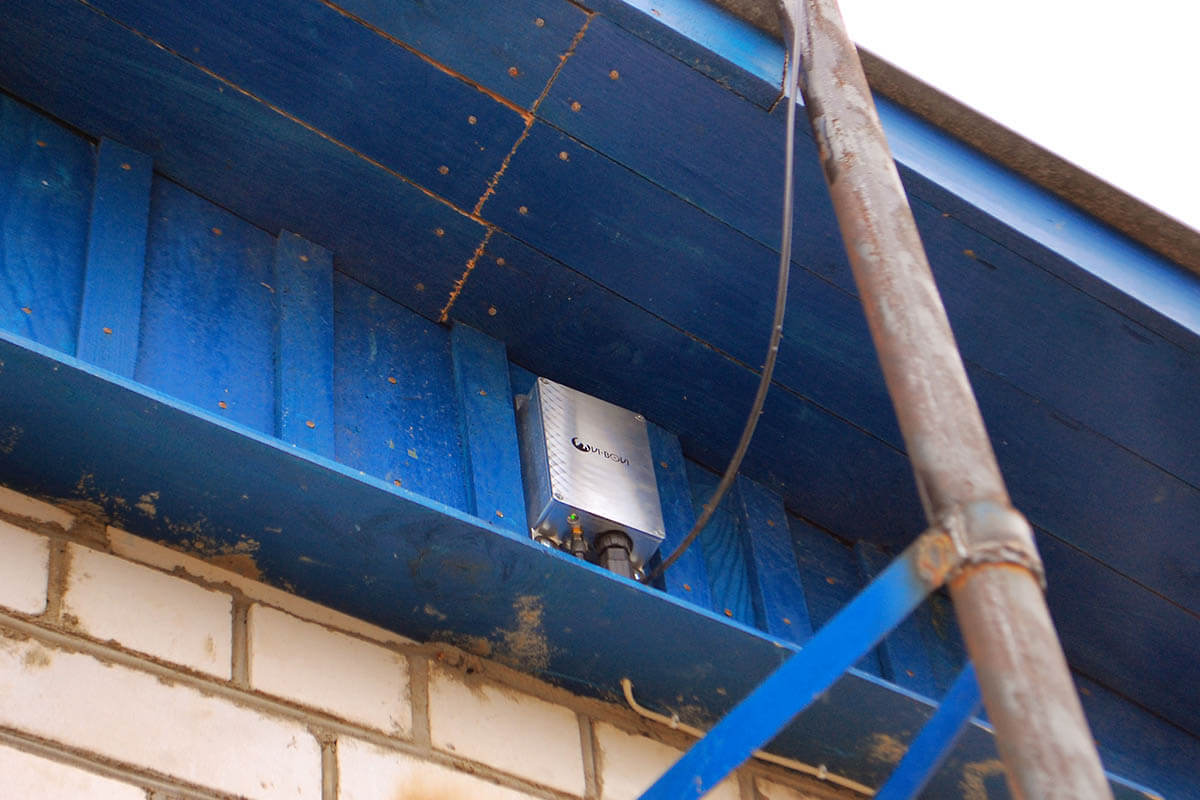 Ovi-bovi receiver with antenna is placed where convenient on the farm
Ovi-bovi tag is placed on a standard 4 cm wide collar in an arbitrary manner With €60 per cow per year benefit of running cow activity monitoring system, the payback period for standard stand-alone Ovi-bovi version on a typical dairy farm is under 1 year given all cows are wearing the tags. Meanwhile, only ⅓ of the herd may be equipped with the tags — those cows in 1 weak to 4 months from their last calving — provided the farm staff regularly replace the tags from cow to cow, which is fairly easy. If needed, the system can be expanded anytime just by adding more Ovi-bovi tags, with practically no limits.
For extra €15 per tag (i.e., for €75) we add rumination time tracking feature to the tags, giving important extra dimension in assessing cows health and timely detection of metabolic diseases.
Warranty
Although each tag and every component of Ovi-bovi activity monitoring system are tested before shipment, accidental problems and malfunctions may occur during operation. The warranty for Ovi-bovi system is five years from delivery date. During that period, we repair or replace any tags or receiver for free in case of their electronics malfunction. Send us the broken thing and we will take care of it!
Economics of estrus detection
Failure of conception in cows because of unsuccessful artificial insemination (AI) leads to expensive sperm waste, longer calving intervals and lower lifetime milk production. A cow that time after time cannot get pregnant finds herself ultimately at the butcher's — culled.
Reproductive problems are sometimes explained by poor health conditions of our cows — mostly as a result of metabolic disorders due to unbalanced feeding (typically composed of far too many concentrates to stimulate milk yields at expanse of animal's welfare and longevity) or inadequate treatment of infectious deceases. However, often there is another, much simpler reason behind many failed AI's: inaccurate AI timing because of incorrect cow estrus detection.
To inseminate cows successfully, a farmer should know exactly when each cow is in heat. The mainstream means of cow heat detection today is simple ocular observation of the herd — sometimes assisted with pressure sensors or color markers attached mechanically to the cows' tails, such as Kamar or EstroTect. Needless to say this approach is highly dependent on manforce and shows little to very little efficiency with growing herd size.
In a small herd, detection rate of approximately 70% can be achieved with two or three observation periods of 30 min a day.J. H. Van Vliet & F. J. C. M. Van Eergenburg, "Sexual activities and oestrus detection in lactating Holstein cows," Applied Animal Behaviour Science 50 (1996) 57–69. More recent and reasonable models assume heat detection rate of 60% for cows and 30% for heifersR. M. Demeter et al., "A multi-level hierarchic Markov process with Bayesian updating for herd optimization and simulation in dairy cattle," Journal of Dairy Science 94 (2011) 5938–5962. or 50% on average and 70% in a "good" scenario.C. Inchaisri et al., "Economic consequences of reproductive performance in dairy cattle," Theriogenology 74 (2010) 835–846. But it's critical to understand that it is not detection rate but overall conception efficiency that directly determines breeding results and profitability in a herd. And the relation between conception and heat detection is tricky: it is not detection rate per se, but estrus timing detection accuracy that is important for successful conception. No wonder that correct AI timing relative to the onset of estrus has become very active field of research these days. Without diving into deep details, consider conception rate on the farm rises from 50% to 75% after swapping from visual observations to automated heat detection.
At this point some maths is needed: for conception probability p, the herd of n cows needs n + (1−p)n + (1−p)2n + … = n/p inseminations, or 1/p inseminations per cow on average. Hence, conception probability growth from p1 = 50% to p2 = 75% results, first, in a drop in sperm usage by 1/p1−1/p2 = 2/3 straws per cow, or p2/p1 = 1,5 times less for the whole herd, and second, in shortening the average inter-calving period by (1/p1−1/p2) × 21 = 14 days (for classic 21-day ovarian cycle duration). This 14 days shortening of calving interval transfers into €3/day × 14 days ≈ €40 in terms of raw milk yields per year, plus remember sparing semen straws (particularly important when high-quality sexed semen is used). And on top of that, automatic activity monitoring system shows cows with lost pregnancies for repeated insemination, warns about animal's low activity which can be an early sign of lameness or other decease, and at the same time exempts farm staff from regular visual herd observations, thus sparing man-hours!
To sum up, the benefit of running automated activity monitoring system (aiming for 75% conception rate on the farm) is no less than €60 per cow per year. Based on this estimate and the desired payback time of 1 year for the system, we established the basic price of €60 per tag and €75 per tag with additional tracking of rumination.